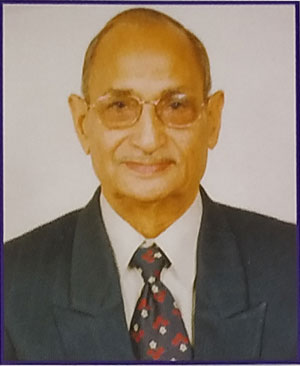 I feel proud to mention here that during these past few years there has been a focus within TRG Industries Pvt. Ltd., of looking for new ways of thinking, new ways of working and new ways to taking the Company to new heights of growth.
One of a great challenges of business of TRG, was to adapting to CHANGE. Our approach has been to welcome CHANGE and see it as an opportunity for growth . We are making a paradigm shift - replacing the old and embracing the new. Innovation is the heartbeat of TRG. Adding up new modern sophisticated machines such as State-of-the-art Heavy Earthmoving & Construction Equipments like Excavators, Vibrator Compactors, Concrete Batching Plant , Hot Mix Plants, Pavers, WMM Plants, Dumpers, Motor Graders, Concrete Pumps and Wet Shot Crete Machines, etc. - details of which are given in the Profile have enhanced capability and working efficiency of the Company. So, the CHANGE in mindset has borne fruits as our Financial Performance tremendously improved .
We are building a New TRG . Our achievements in the past years are a measure of the way in which we have performed the business and brought changes in think process of the Company.
During this intervening period, we have completed Execution of Many Prestigious Works namely "Construction of Major Bridge over River Ganga at Kachlaghat on SH-33, World Bank Project of UPPWD, Construction of "Major Bridge over River Ghagra on SH-30 , Sitapur Bahraich Road, World Bank Project. UPPWD, which has proved to be a milestone and a benchmark of our Engineering Capability in the Construction and Execution of Bridges thereby paving way for comfortable travel of general masses for their smooth travelling and for the betterment for economic growth of the State.
Furthermore, it is a matter of Great Honour and Pride for the Company to be a part of the Most Important and Significant Infra-structure Development Project at our Borders in Mountainous Himalayan Region initiated by Directorate General of Border Roads (BRO), Ministry of Defence . Due to our consistent efforts of good performance and to efficient deliver and handing over of Projects in time , TRG has continuously focused on increasing its Bid Capacity and Pre-qualification ability to Bid for Larger Projects .
With this aim in mind and backed by the strength of utmost experienced Directors, Skilled Workers, Well Trained and Committed Work-force we could successfully bag a Prestigious Project of "Construction and Improvement of Zozila-Kargil-Leh (NH-1D) Road From Class - 9 to Double Lane 10 Mtr. Formation Width (Surfaced) Specifications Sector from Km. 147.000 to Km. 205.457 in J&K State : CA No. CE (P) Himank / 51/2009-10", worth Rs.1120 Million. The Kargil Worksite is situated in a Snow Bound Mountains at an altitude of more than 3000 Mtrs from sea level.
It is all the more Challenging to Execute such a Project in time especially in such an area which is open for work for only 5 to 6 months in a year. However, our Able and Experienced Team worked tirelessly day-in and day-out and have completed almost 85% of the High Quality Work and hope this will be completed in this season i.e. in the month of October, 2013 before Closing of the Road for the Winter Season. Our work here has been highly appreciated by the Top Officials of DGBR.
During this period, we have also completed and handed over "Construction of Isolated Aircraft Parking Stand at LGBI Airport, Guwahati" .
A long list of Eminent Clients with whom TRG is associated for Development & Construction of Infra-structure for the development and growth of Economy of Country as well as for smooth and comfortable life of the Countrymen. TRG is engaged in construction of Highways, Bridges, Flyovers, Widening and Strengthening of Airports, Irrigation Works, Tunnels, Aqueducts, Barrages, Power Houses, etc. etc. for NHAI. IRCON, AAI, PWD, World Bank Projects of PWD, Indian Railways, etc.
I do not hesitate to mention here that during these last 7 years, where we were busy in completing the Projects in hand for which we were getting speedy and consistent success and with the result the On-going works at various places such as Ghagra, Kachlaghat, Joginder Nagar, Sidhi, Tunnels in J&K etc. were at the verge of being completed, the main worry of adding new works in the Pandora of the Company was a matter of great concern.
So how to keep in tact and safeguard the interest of the Employment of large scale of Skilled and Un-skilled workers of our Company who have worked relentlessly for the welfare and growth of the Company was also worrying the Management. We determined ourselves to get more and more construction works / projects not only to safeguard the interest of our most important assets of the Company i.e. highly motivated, energetic and productive staff but also for the growth of the Company itself. This determination paid results and we received Letter of Acceptance of four New Construction Works of ROB from M/s IRCON International Ltd. in Bihar worth about Rs.1600 Million. The work at all these places have already started and is progressing successfully as per schedule.
As far as Hospitality business is concerned, Hotel TRG with Bar, Restaurant and other Modern Facilities which was commissioned at Gaurimal Commercial Complex at Bahu Plaza, Rail Head, Jammu, during the Vth Edition of this Company Profile is successfully running for the comfortable stay of the Tourists. It has become the Most Important and Reputed place for hosting Marriage Functions, Conferences and Family Functions. However, we are still planning to bring more improvement in this field of business to cover large number of Clients for their comfortable stay here in Jammu.
In the end, I would say that Client Satisfaction has been the benchmark of our Performance. Human Resources and Assets Management hold the key to our success. Our strong Technical Base helps us deliver Total Construction Solutions from Concept to Commissioning of the Project.
While we are ambitious, we do understand that the role of business is not merely to make profit , we have a duty to integrate ourselves to a Society and the Community and Make this World a Better Place to Live in.
I earnestly wish to Quote the teachings of Lord Krishna from the Holy Bhagwat Gita the extract of which is as under :-
"Karmany evadhikaras te,
ma phalesu kadadachana
ma karma - phala-hetur bhur
ma te sango "stv akarmani"
(Chapter Two verse 47)

Meaning :- "Sri Krishna said :- "You have a right to perform your prescribed duty, but you are not entitled to the fruits of action. Never consider yourself of the cause of the results of your activities and never be attached to not doing your duty".
Also one of the Most Renowned and Literate Management Guru - Shri C.K. Prahalad, a Former Strategic Advisor to many Corporates and Companies, who was a Visionary Man wrote during one of his Seminars "Learning to do more with less for more people should be the Innovation Dream". As such, we believe that thought can be more than a dream. We are making it a Realty. Our Strategic Vision during the past years have been more and more with less and less.
I am glad that the Company is enjoying and maintaining the Most Congenial and Cordial Relation with all the Officials of all Departments of State and Central Governments of India at all levels as well as with Financial Institutions and Banks especially with the Jammu & Kashmir Bank Ltd., Town Hall, Jammu. It stand fully appreciated that it is because of the combined and whole- hearted efforts put in by all , that the Company is progressing well and satisfactorily and thus has reached at its present status. I wish them all Good Luck and Prosperity in their Work in future and also for their sincere hard work and selfless support.


With My Blessings and Good Wishes to all,
T.R. Gupta